SpiriTech is an innovation company, created in the interest of enhancing and empowering people, by leaping way outside the box.
In an effort to see what can be done in the realm of new technologies and innovative uses of current technologies across multiple fields, in the interest of creating whole new markets or concepts, as no leap of technology can guarantee a profit, only more knowledge.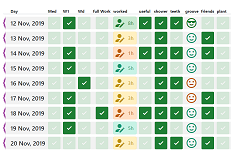 FalconPlanner
Plan, organize and coordinate anything, easily.

CyberSpaces
SpiriTech and Seraphim studios created an extremely customizable isometric browser MMO platform.

Space mouse
An extremely scalable fast modular multi multi-tenant single-page single-socket application framework.

ALICE
Exploring a new model of context aware, knowledge based AI, for reasoning and assistance.

Inverted architecture
Exploring new functional building environments, modularisation and environmental mimicry.
Iconix
Exploring natural language and interface iconography.

Microns
Expanding Microdata /RDF /Schema.org into an open standard for ERP and generic systems automation.

Mogi
A redesign of the Assembler level concepts of higher lever programming.

On-Track
Ground up, small parcel and pallet, open logistics standard of the future.

Quadro
Modulare tools platform for industrial automation.

VVision
Augmented reality for computers, robotics and AI.

Cerebrum
Wearable and modular interface and augmentation system.
© 2005 – 2020 SpiriTech, Oslo, Norway